Jurassic World: Dominion Dominates Fandom Wikis - The Loop
Play Sound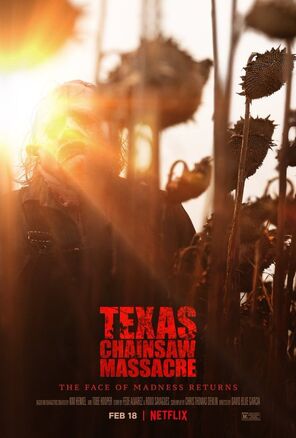 Texas Chainsaw Massacre is a slasher film, directed by David Blue Garcia, with a screenplay by Chris Thomas Devlin, from an original story co-written by Fede Álvarez and Rodo Sayagues. It serves as the ninth installment of the franchise and a sequel set fifty years after the original film. Unlike Texas Chainsaw 3D, it does not explicitly erase every previous sequel in the franchise.[1]
The project is a joint-venture production between Legendary Pictures, Bad Hombre, and Exurbia Films. It stars Sarah Yarkin, Elsie Fisher, Mark Burnham, Jacob Latimore, Moe Dunford, Olwen Fouéré, Alice Krige, Jessica Allain, and Nell Hudson.
After the release of Leatherface in 2017, Lionsgate had plans for five more films in the franchise. However, the studio lost the rights due to the time it took to release it. Legendary acquired the franchise's rights, with Álvarez and Sayagues serving as producers alongside Pat Cassidy, Ian Henkel, and Kim Henkel who co-wrote the original film. Duo filmmakers Ryan and Andy Tohill were initially signed on as directors, but were replaced with Garcia due to creative differences. Filming took place in Bulgaria in August 2020.
Texas Chainsaw Massacre was released on February 18, 2022 on Netflix.
Premise
″Melody (Sarah Yarkin), her teenage sister Lila (Elsie Fisher), and their friends Dante (Jacob Latimore) and Ruth (Nell Hudson), head to the remote town of Harlow, Texas to start an idealistic new business venture. But their dream soon turns into a waking nightmare when they accidentally disrupt the home of Leatherface, the deranged serial killer whose blood-soaked legacy continues to haunt the area's residents — including Sally Hardesty (Olwen Fouéré), the sole survivor of his infamous 1973 massacre who's hell-bent on seeking revenge.″
Cast
Sarah Yarkin as

Melody

: A "25-year old San Francisco moneymaker who drags her younger teenage sister with her to Texas on a business trip, out of fear of leaving her alone in the city".
Elsie Fisher as

Lila

: Melody's teenage sister and an amateur photographer who is a wheelchair user and "presumably disabled".
Mark Burnham as Leatherface
Jacob Latimore as

Dante

: A close friend of Melody and Lila.
Moe Dunford as

Richter

Olwen Fouéré as Sally Hardesty: The only survivor of Leatherface's killing spree from the original film. Sally was previously portrayed by Marilyn Burns in the original film. As Burns died in 2014, the character was recast.
Alice Krige as

Mrs. Mc

Jessica Allain as

Dante's Girlfriend

, a close friend of Melody and Lila.
Nell Hudson as Ruth

Ruth

Sam Douglas as

Herb

William Hope as

Sheriff Hathaway

Jolyon Coy as Unknown
John Larroquette as film's narrator
Production
Development
Initially during the development of Leatherface which was released in 2017, the producers had the film rights and intention to make five more Texas Chainsaw Massacre films. In April 2015, producer Christa Campbell stated that the fate of the potential sequels would largely depend on the financial and critical reception to Leatherface. By December 2017, Lionsgate and Millennium Films had lost the film rights, due to the amount of time it took to release Leatherface.
In August 2018, it was reported that Legendary Pictures had entered preliminary negotiations to purchase the film rights to Texas Chainsaw Massacre, with the studio intending to adapt television and film installments. The following year, Fede Álvarez signed onto the project as producer. In November 2019, Chris Thomas Devlin joined the production as screenwriter. In February 2020, Ryan Tohill and Andy Tohill were hired to serve as co-directors for the film. In May of the same year, it was announced that the film will serve as a sequel to the original film. The plot will feature a 60-year-old Leatherface, notably similar to the approach that Blumhouse Productions took with their Halloween films.
Casting
In October 2020, it was announced that Elsie Fisher had been cast to star in the film alongside Sarah Yarkin, Moe Dunford, Alice Krige, Jacob Latimore, Nell Hudson, Jessica Allain, Sam Douglas, William Hope, and Jolyon Coy. In March 2021, it was revealed that Mark Burnham had been cast as Leatherface, replacing the late Gunnar Hansen, while Olwen Fouéré was cast as Sally Hardesty, replacing the late Marilyn Burns.
Filming
Principal photography commenced on August 17, 2020 in Bulgaria. However, after being unimpressed with what was filmed, the studio fired Ryan and Andy Tohill. David Blue Garcia was hired to replace them as director. The footage shot by the Tohill brothers would not be used, with Garcia starting over on the production.
Post-production
By March 2021, Álvarez announced that production had completed, while confirming that the film would focus on an older-aged Leatherface. The filmmaker revealed that the production took an "old school" approach to filmmaking, noting vintage lenses and practical effects used for the gore. The following month, the film was officially titled Texas Chainsaw Massacre. It was believed at one point that the title had changed to Texas Chainsaw Begins but Devlin denied this. In May, it was reported that after test screenings, the audience reaction was generally negative. However by August, Álvarez counterclaimed that the overall audience score was mostly positive, while emphasizing that the film remains respectful to the first film's legacy.
That same month, it was revealed that Colin Stetson served as composer for the film.
Marketing
In October 2020, Legendary Pictures launched the official website for the film, which includes a motion poster and a limited time offer for a "Calling Card" downloadable content for the Call of Duty: Warzone and Call of Duty: Modern Warfare video games. The website never updated since the promotion.
Release
On Octover 2020, the film was initially stated for a theatrical release sometime in 2021. However, in August 2021, the film was revealed to skip a theatrical release and would instead be released exclusively on Netflix. In October 2021, during an "Ask Me Anything" (AMA) on the social media site Reddit, Álvarez stated that the film was most likely planned for an early 2022 release date. On December 3, 2021, a first look of the film was released, along with the announcement of its February 18 release date.
The film released on February 18th, 2022.
References